HGV AND LORRY Repairs and Servicing in North Shropshire
We are approved for Roller Brake Testing for all vehicles classes HGV and Trailers.
We provide Commercial Vehicle Repair, Heavy Goods Testing and Roadside Assistance.
Our specialties include work on Crane Lorries, Step Frame Flats and Extendable Low Loaders
Our up-to-date HGV workshop is second to none in the local area.
Well equipped workshop and fully qualified HGV vehicle maintenance repair technicians
Volvo Service & Repairs
Mercedes Service & Repairs
Scania Service & Repairs
DAF Service & Repairs
IVECO Service & Repairs
Man Service & Repairs
Best Apprentice 2011
Mark Williams a member of our garage workshop team has been awarded the 2011 shield for the best apprentice on the Motor Mechanics Course at Shrewsbury College of Technology
We also offer:
HGV MOT work
Recovery Trailer
Municipal Vehicle Repairs / Sweepers
Bin Lifts & Compaction Repairs
Geesink Norba approved Repairer
Terburg approved Repairer
BPW Axle Service Station
Computer Aided diagnostics for all makes
Suppliers of Morris' Oils & Products
Main Contractors for Veolia in Shropshire
Our Modern Workshop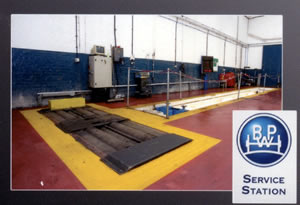 Roller Brake Testing for HGVs