Abnormally large shallow pitch roof trusses transported point down on specially modified trailer.
Trusses illustrated are 15.5 metres long with a 3.684 meter pitch.
The shorter trailer allows for easy access to sites.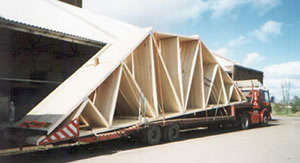 Abnormally large - flat roof trusses transport on one of our step frame trailers. We have a number of stepframe trailers, the lowest deck height being 2ft. They all have centre poles or frames to support the trusses in transit.
Ridgid load of roof trusses ready for site (7.5T)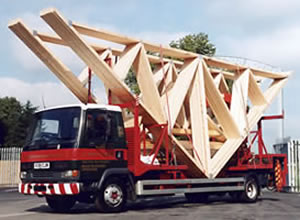 Centre mounted crane allows access to both packs of roof trusses.